School is nearly out – and the annual hunt for the perfect end-of-year teacher gift is on. What do you get that won't collect dust, garner a (private) yawn, or duplicate what every other mom buys?Here's our unofficial guide to teacher-gift giving:
Follow the rules.Does your kid's school have a policy limiting the amount that can be spent on gifts? If so, honor it. It's also smart to check with other parents in your school to find out what they're doing; this helps you avoid feeling sheepish if your gift is out of step with everyone else's. And don't forget to recognize teacher aides with a small token, too.
Consider a group gift. Ask for a small donation ($5 to $10 per family) towards something larger (a massage!) It's an easy, budget-friendly way to gift a nice present while taking the burden off individual parents. If you're coordinating the gift, remember that not everyone can — or will — participate. Regardless, include every student's name on the card. It's just classier.
Gift cards are always appreciated.Yes, it's a little impersonal, but you know it's going to get used! Consider a gift certificate towards something the teacher may not splurge on herself — a manicure, a restaurant, a class, that kind of thing.
"Things" are great — if you know your teacher's taste. Imagine getting 15 gifts from well-meaning pseudo-strangers. Some you'll love, but most will likely miss the mark. By all means, buy your teacher a monogramed tote bag, an umbrella or a pretty scarf if you're confident you know her taste. But if you don't, stick to the gift certificate or the group gift.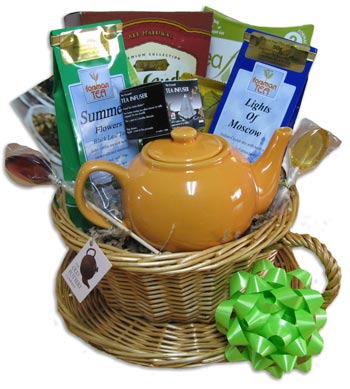 Basket of goodies
: Baskets can hold anything teachers might like. Some ideas might include a basket of fresh fruit or a coffee and
tea related theme
with tea accessories and treats.
Presentation can often make the gift more special. Have your child make a handmade card and be sure to include a personal note of your own, acknowledging your appreciation for the work they do with your child.
The mark teachers make in the education of a student can influence both how they learn and what they want to learn. A token of appreciation coming from a student and their family, can mean a great deal to all teachers..
Share: